Praise for Ask a Sex Abuse Survivor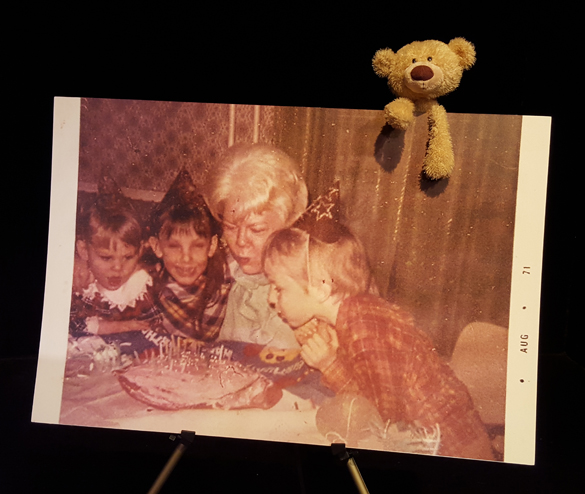 FROM MENTAL HEALTH PROFESSIONALS and ORGANIZATIONS

"We hosted a virtual performance of Ask A Survivor and it felt just as dynamic and interactive as an in-person event. This show is as honest as it gets about the hard reality of child sexual abuse. As Michael tastefully recreates through dramatic monologue the most painful scenes of his childhood, we become "witnesses" to the abuse that Michael suffered alone and in silence for so many years. Yet this carefully guided journey does not abandon its audience in those dark places of memory. Michael strikes a "just-right" balance between raw emotional intensity and self-reflective commentary. Each memory-scene is followed by an opportunity for audience engagement—and Michael creates a genuinely safe space for participants to ask questions about this very sensitive topic. The brilliance of Michael's approach comes down to this Q&A—without realizing it, we have been empowered to have a conversation that is still so taboo in our society. We leave the performance feeling compelled to pay greater attention to victims and survivors, to feel their pain more deeply, and to act more decisively to protect children from abuse."
– Children's Advocacy Centers of Pennsylvania
"Michael Broussard's ASK A SEX ABUSE SURVIVOR is a powerful and moving testimonial to the impact of childhood sexual abuse throughout a lifetime. The show reflects a movement from isolation and shame to connection and acceptance for both performer and audience. I would love to see the show reach a larger audience to empower and educate a broader community."
– Clinician Megan L. Doyle of SOAR (Survivors of Abuse in Recovery)
"As a psychologist who treats survivors of childhood sexual abuse, I would highly recommend this show to anyone who struggles with the emotional aftermath of these traumas. Particularly helpful were Michael's reenactments of several scenes from his childhood. He expressed himself with such honesty and intensity but then was able to pull back and look with his rational mind as to how he has healed. He offered hope and empowerment to continue being aware and growing in all aspects of one's life."
– Clinical Psychologist Dr. Elizabeth Dale Blair
"I had the privilege of participating in a panel discussion after Michael performed ASK A SEX ABUSE SURVIVOR at White Pines Productions in Elkins Park, Pennsylvania. Michael gave an honest – sometimes painful, sometimes humorous, but always brave and authentic – portrayal of his experiences as a child suffering sexual abuse at the hands of an adult family member. Despite the challenging subject matter, his audience was fully engaged and empowered by Michael's courage. This production is an excellent illustration of the healing power of art and community."
– Psychologist Margaret D. Sayers, Ph.D. of Southampton Psychiatric Associates
"I was blown away by Michael's Broussard's performance of ASK A SEX ABUSE SURVIVOR. He is a talented storyteller, courageous truth teller, and dedicated survivor supporter/advocate. Michael uses his gifts of performance to articulate aspects of his experience that words alone could never convey. Of course this performance was quite heavy, but within it I also experienced hope, lightness and brightness. The unique format of the show (in which he opened the floor to audience questions and comments) made it exceptionally powerful. As a result of the audience participation, a soothing balm of compassion and togetherness was woven into the story: not just for Michael, but for all survivors with this shared experience. With the courage to speak his truth, Michael paves the way for this deep connection and healing togetherness. It was much more than just a performance. I felt part of something important and transformative. If you are a therapist who works with survivors, I highly recommend ASK A SEX ABUSE SURVIVOR. I walked away with an understanding of the survivor experience that no book, training, or even my years of work as a therapist ever could have given me."
– Clinician Maureen O'Regan, Orleans Psychotherapy Associates
"As a counselor who works with survivors of sexual trauma every day, I was amazed at the healing power of Michael's honesty and courage while standing in front of an audience to perform his story in such a raw way. With splashes of colorful humor throughout the performance, Michael authentically and daringly painted the picture of the torment and abuse he experienced in a way that became tangible and relatable to everyone in the room. Before his performance was over I witnessed true healing in some survivors in the audience, who were able to discover, through Michael's brave retelling of his story and the opportunity to ask questions, that they were not alone. Michael showed us that no one has to be alone as a survivor, and that everyone can heal. Whether you are a survivor or simply a supporter you will not be able to walk away without being deeply affected."
– Meg Lenherr, NCC, Counselor for Women's Services, Inc.
FROM FELLOW SURVIVORS
"I had the amazing opportunity to be engaged in Michael's performance of ASK A SEX ABUSE SURVIVOR this weekend at my school. As a survivor, I have never felt so connected to the experience of another person. His performance was raw, emotional, and above all healing. By sharing an intimate and vulnerable experience with us, Michael was able to create a space of healing, empowerment, and support that I have never imagined. Thank you, Michael, for the sacrifices you make to help others and the incredible message you shared with us."
– Anna Meyer, Co-President Why Not Us?
"ASK A SEX ABUSE SURVIVOR was deeply meaningful to me because there was a force, a power in hearing Michael Broussard's story that opened up my own story, my experience. In this case, there is a healing effect of listening and speaking, of not being silent or unheard due to extreme discomfort. My daughter went to the production with me and she was moved as well; it gave her a better understanding of me. Empathy, shared understanding of the experience of trauma, being heard and supported — all these occurred during Michael's show, which is powerful AND a force for prevention of abuse by raising awareness and moving hearts."
– Tremain Smith
"The intimate small theater setting and presence of clinicians helped to create a safe environment. As Michael told his story, his simple format became in a moment powerful because of his vulnerability, frankness and courage. His willingness to tell his story helped us as well as himself. He connected with the survivors in attendance who know the pain, memories and trauma of sexual abuse. I left with a feeling of admiration, gratitude, and hope."
– Kathy
"I recently participated on the discussion panel following Michael Broussard's performance of ASK A SEX ABUSE SURVIVOR. I found the one-man drama raw, painful, truthful and often humorous. The performance was electric and vivid. The story of Michael's abuse filled life is a journey of unabashed horror. Though I found several pieces triggering, overall I felt that this reenactment of a childhood lost to be a healing place as the audience participation diffuses the harsh realities of an abuse survivor. I do recommend this show and the insight and naked beauty it brings forward."
– Karen Polesir
Ambler Borough Councilwoman
SNAP (Survivors Network of those Abused by Priests) spokesperson
"Your play proves there is life in the midst of healing from sexual abuse. I saw a flower blooming as you spoke publicly about such a horrific personal experience. I was inspired to continue to share my triumph over my own childhood trauma."
– Kathy Morris, Inner Journeys
"I had the honor to see and participate in Michael's performance of ASK A SEX ABUSE SURVIVOR the other night in Somerville MA and was in absolute awe of the extraordinarily brave and courageous performer that used innovative theater to involve the audience while sharing his painful story. Michael shatters the silence that allows sexual abuse to thrive in with his interactive performance. I came away from the performance uplifted, braver, and will always remember Michael's courage and draw strength from it when needed in my own life. Thank you, Michael, wishing you continued success as you continue your tour."
– Dave O'Regan
New England Director of SNAP (Survivors Network of those Abused by Priests)
FROM SUPPORTERS
"I was blown away by this show. Michael puts on an extremely powerful performance, but what is extraordinary is his ability to seamlessly step out of character to facilitate a compassionate audience discussion, then step back in and return to those dark places. Michael's depiction of his experience is heartbreaking. But the takeaway — his resolve to overcome what he endured and to prevent it from happening to others — is stirring and inspired."
– Denise LaMarra, MS
Director, Standardized Patient Program
Perelman School of Medicine at the University of Pennsylvania
"Seeing this show was one of the most moving and powerful events of my life. Michael Broussard is doing work that will change the lives of so many people. Abusers rely on silence, so this show is quite a bold and innovative way to make a difference."
– Greg Myers
"Michael weaves insight and even humor into his narration deftly, and his upbeat message reaches his audience: You can get past this. You can prevail. Oh, and we need to repeal the statute of limitations on this terrible crime against children. Michael performs an invaluable public service for survivors of sexual abuse. He lays bare his own pain and trauma to reach other survivors."
– Patty Quinn
"ASK A SEX ABUSE SURVIVOR is a great tool for enabling to connect not only those who have been abused but anyone who wants to understand and connect with the reality of child abuse. The performance itself touches the heart in a very meaningful way. The glimpses of how childhoods can be stolen are quite vivid and undeniable. Once we are connected, we cannot help but be moved to ameliorate the situation. The Q&A portion of the show provides great insight for curious audience members and also allows folks to share their own experiences. This can provide catharsis for some and for others it provides a tool with which to join in the fight. We come from different places with different expertise. Understanding all the dimensions that must work together to help all our children thrive is important. Parents, siblings, relatives, lovers, activists, lobbyists, teachers, scientists, artists … anyone and everyone can play a role. I salute Mr. Broussard for having not only the courage but also the vision for a remarkable show that has immense potential to be a game changer in this fight to not only help people thrive but also recruit allies."
– Suraiya Haroon, Ph.D., Post Doctoral Fellow